Direct Ink Writing 3D printer for industry, chemistry and materials laboratories
Your ultimate DIW solution
The F-NIS 23151 3D printer is ideal for consumers interested in DIW (Direct Ink Writing) technology. The device is built based on Creator Pro, a proven 3D printer. It offers durable, enclosed construction and complete reliability. A precision pneumatic extrusion system was implemented in the F-NIS design. This combination provides the user with a simple and reliable tool, helpful in the initial stages of proof-of-concept or as a universal base for prototyping original materials in 3D printing.
Universal 3D printing system
The versatility of the F-NIS makes it a valuable asset in numerous applications across a broad spectrum of industries and research areas. Its adaptability and reliability cater to the diverse needs of organizations and individuals engaged in innovation and experimentation. F-NIS is effectively used in a variety of areas, including:
Universities and research Institutes
The versatility and adaptability of the F-NIS printer meet the diverse needs of scientists and R&D departments, and the flexibility extends to the adaptability of its components, allowing seamless integration into different research setups and enabling customized configurations to meet specific project requirements.
The F-NIS 23151 excels at accommodating a wide range of materials like silicones, ceramic paste, photosensitive resin, and many others.
Advanced technology for specific needs
As the F-NIS 23151 is our design from the ground up, we have complete control over its construction, allowing us to adapt it to different needs and requirements. As a result, we cannot only create custom solutions but also continuously develop and improve the machine to meet our customers' latest standards and expectations.
F-NIS offers the A and B versions with a versatile 55 ml and 30 ml cartridge toolhead, which can seamlessly accommodate an UV module for added functionality. The F-NIS C version includes an extra 10ml cartridge toolhead with heating capabilities and UV module support for those seeking even greater versatility. Additionally, we offer customization options, such as a 140°C material heating toolhead with a 10ml steel cartridge, to meet specific requirements.
F-NIS 23151 working area is a tempered glass platform, with dimensions 230 x 150 x 150 mm that heats up to 120°C. You can print on various materials directly on the forum, such as metal, PMMA, PC, and 3D-printed gaskets, enabling versatile applications.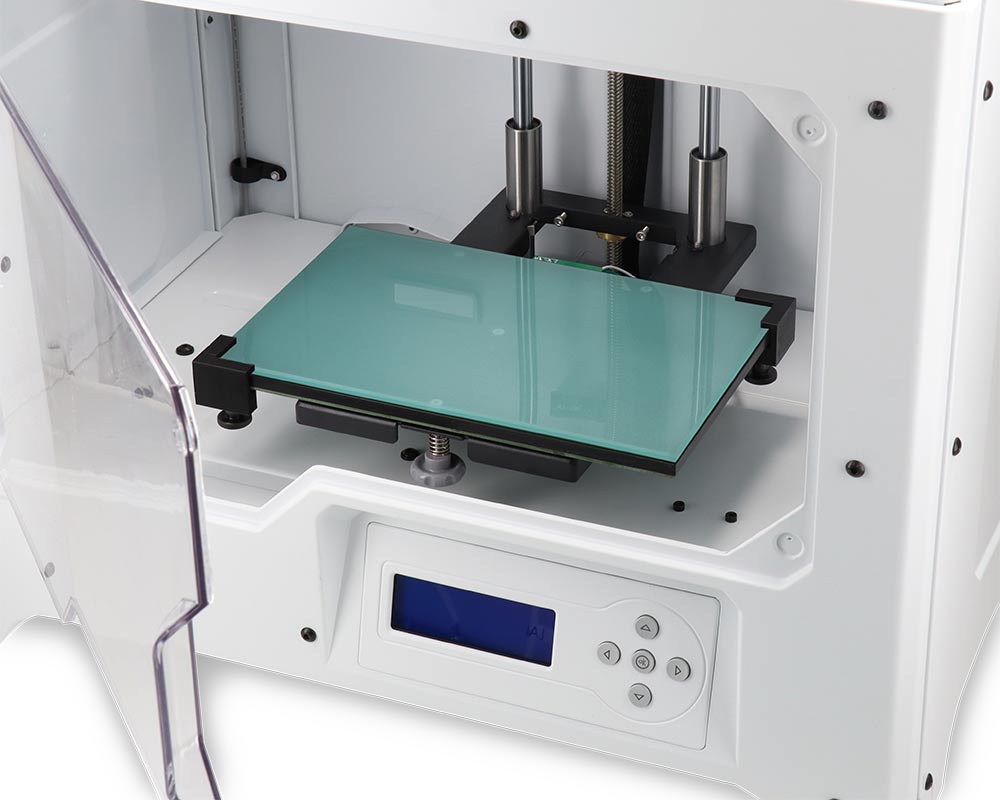 The Pneumatic Box is a device that can be connected to various pressure sources (up to 7 bar), allowing for precise pressure control and extrusion.
Optionally, we offer to attach a compressor to the printer. This reliable and trusted device is in operation in numerous labs worldwide. It operates at a working pressure of up to 4 bar and is compatible with European voltage standards.
The device is offered in 3 specifications – A, B, and C. You can upgrade F-NIS to higher-end parameters. Additionally, the printer has many specialized accessories that allow you to personalize the device. More information on the store website: shop – accessories.
| | |
| --- | --- |
| | |
| | |
| | |
| | |
| | |
| | Any one-component paste or semi-liquid material |
| | |
| | |
| | |
| | Pneumatic (optional compressor with working presure up to 4 bar) |
Version B – Additional improvements

UV module with 365 nm and 405 nm wavelengths

Post-processor controlled diodes
Version C – Additional improvements

Extruder with cartridge heating capability up to 60 °C
F-NIS 23151 has been successfully implemented and comes highly recommended by prestigious institutions like AGH University of Science and Technology, Adam Mickiewicz University in Poznań, and the Cracow University of Technology.
Sygnis is proud to manufacture 3D printers at our own facility in Poland, ensuring the highest quality standards.
Our products are renowned for their performance and reliability.
Don't hesitate to reach out to us so we can boost your research like we did with all of our customers!